SAVE 6 Buyer rebate program: cash at closing
We Rebate Up to 50% BACK to the Buyer
We offer the largest Realtor Rebate in Maryland, Virginia, and DC while providing exceptional customer service. With SAVE 6, you will work with experienced Realtors throughout the entire transaction. If you have a question about our service, or about buying a home with SAVE 6, call 301-355-6104. We are open every day of the week.

Cash Back
The level of service you request will determine the rebate amount that goes back to you. Take advantage of this home buyer rebate, don't miss out on these savings, and call today!

Largest Rebate in the Region
At SAVE 6, we give home buyers up to 1.5% of the sale price – this is up to 50% of the real estate commission offered in the MLS. This is the largest agent rebate in the area.

Major Savings
The SAVE 6 Buyer Rebate Program is the key to unlocking savings. Don't leave money on the table! Commissions are factored into the price whether you use a Realtor or not.
Step 1.
Contact SAVE 6
As your buyers agent, SAVE 6 will assist you in searching for a property that meets your needs. Additionally, if you already have a property in mind, notify SAVE 6, and you can move forward from there. Reach our office at 301-355-6104. We're open 7 days a week until 9pm.
Step 2.
Securing Your Dream Home
SAVE 6 will help close the deal, write/review the contracts, and guide you through the agent rebate process. Our agents work around the clock and the service we provide is nothing short of world-class.
Step 3.
Cash Back
Congratulations! You've successfully bought your dream home and got cash back. SAVE 6 will rebate you up to 50% of our commission, right back into your pockets. The level of service you requested and the buyer's agent commission will determine your rebate amount.
How Does This Work in a Real Scenario?
Let's say you're buying a $500,000 property. The buyer's agent commission is usually 2.5-3%. 3% of $500,000 would be $15,000. With our rebates typically up to 50%, SAVE 6 would rebate the buyer up to $7500, in cash, at settlement.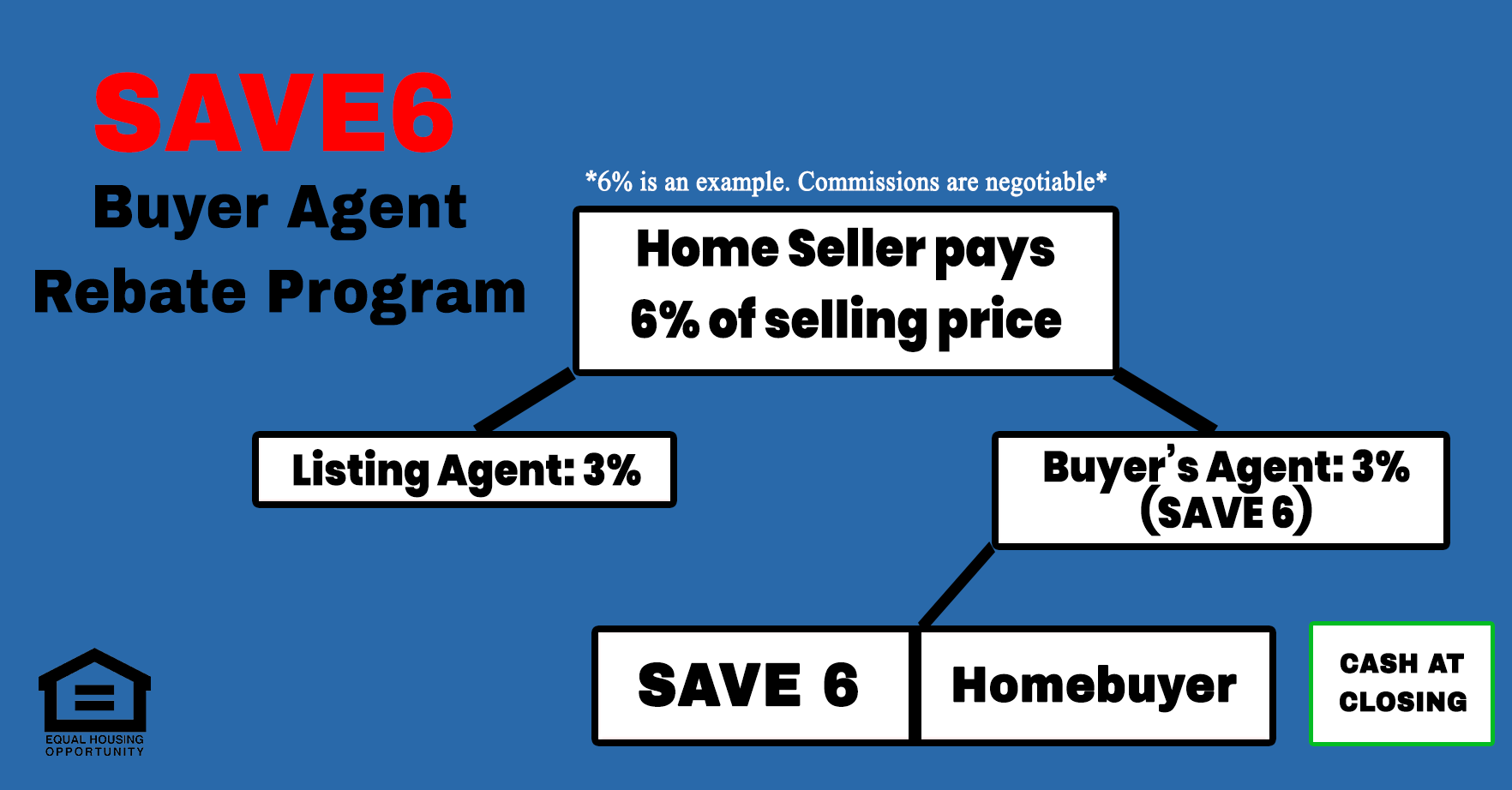 Get More Cash Back with a Buyer Agent Commission Rebate
Receive up to 1/2 of SAVE6's Commission
| | | |
| --- | --- | --- |
| | | SAVE 6 Buyer Rebate Program |
| | | |
| | | |
| | | |
| Commission Rebate Directly to Buyer | | |
"If I could shout from the rooftops in every state, I would spread the word that working with Larry and his team at SAVE 6 INC. was one of the best decisions I have made regarding the sale of our property / home. Larry is extremely knowledgeable, friendly and oh so helpful. His service saved us big money on commission fees and his guidance through the process never waivered. Give Larry a call at SAVE 6 INC. You will not regret that you did."
Tracy – Haymarket, VA
"Fantastic experience would highly recommend Larry to any person who is buying or selling. He saved me tens of thousands of dollars. Thank you Larry Lessin for your wonderful service, professional demeanor, negotiation tactics, availability to my numerous phone calls (even after business hours and on the weekends). Everybody should use Larry's services whether buying or selling he WILL save you money."
Laurel – Silver Spring, MD
"We have been using Save 6 for decades under various companies and will continue to do so ad infinitum. Not only do we have zero complaints, which is impressive in itself, but the rate of response exceeds all expectations! No matter what time or day, Larry is there to list, help, and answer all questions. Never, in any industry, have I seen service like this!"
Marta – Baltimore, MD
Receive on average
$10,000+

rebate with the assistance of SAVE6

Call today to take advantage of your buyer agent commission rebate!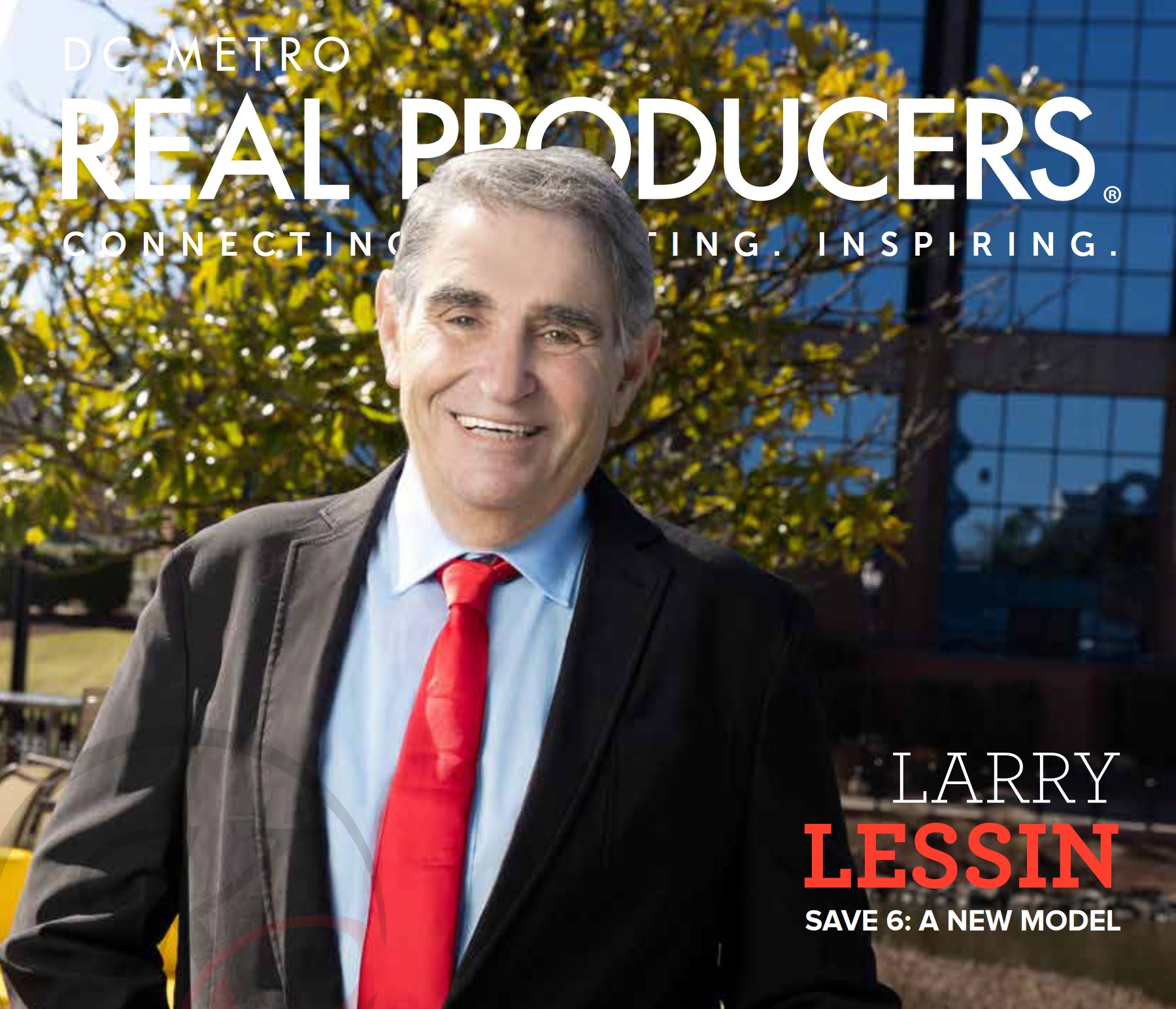 The Man Behind the Magic
Larry Lessin, the man who's run SAVE 6 for over 30 years, prides himself on the level of service his company provides. He's a family man who, to put it plainly, loves helping people. He wants to save people money while keeping them satisfied. He was recently featured on and received a cover story for the June 2023 article of Real Producers©, where they highlight the top producers in the real estate industry each month.
"We have helped our customers save millions of dollars in real estate commissions over the years and have helped protect their equity in most people's largest single investment"
You can read the entire story here.